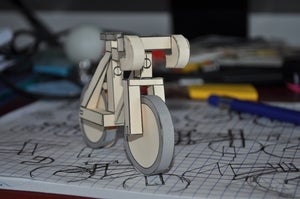 $

3.00
DIY paper model kit of a bicycle for you to create and enjoy.
This is a V2 - designed as an aggressive fixed gear bike, but it can be a fun single speed ride as well.
Model comes with both drop bars, or riser bars - easily swapped after you build it via removable stem system.
Fully built model is about 4" long and 3" tall.
ALSO check out paperbikes v1 - a cool mountain / dirt jumper/ street / park bike! Find it under other items.
Perfect little project for a biker who's bored at work and wants to create a little paper craft to put on his desk.
Upon purchase, you will be emailed the plans as a PDF file.
Simply print the plans on any printer, cut out, fold and glue together (uses one 8-1/2 x 11 letter-size sheets to create - best if printed on cardstock/heavier paper, but any paper will work)
You will NOT receive any items in the mail. $1 is just to cover the ebay/paypal and listing fees.
Enjoy!